2/28/2023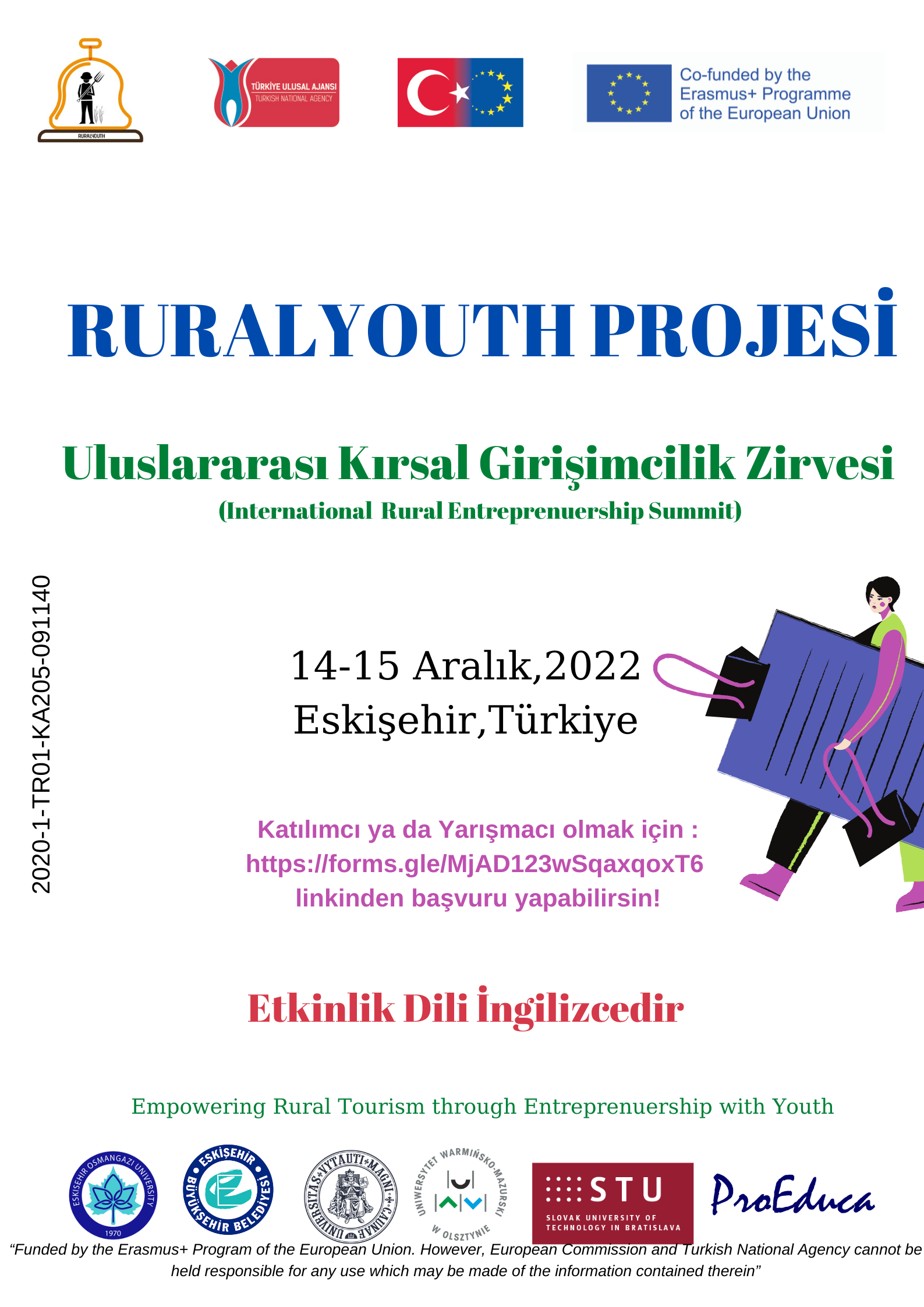 INTERNATIONAL RURAL ENTREPRENEURSHIP SUMMIT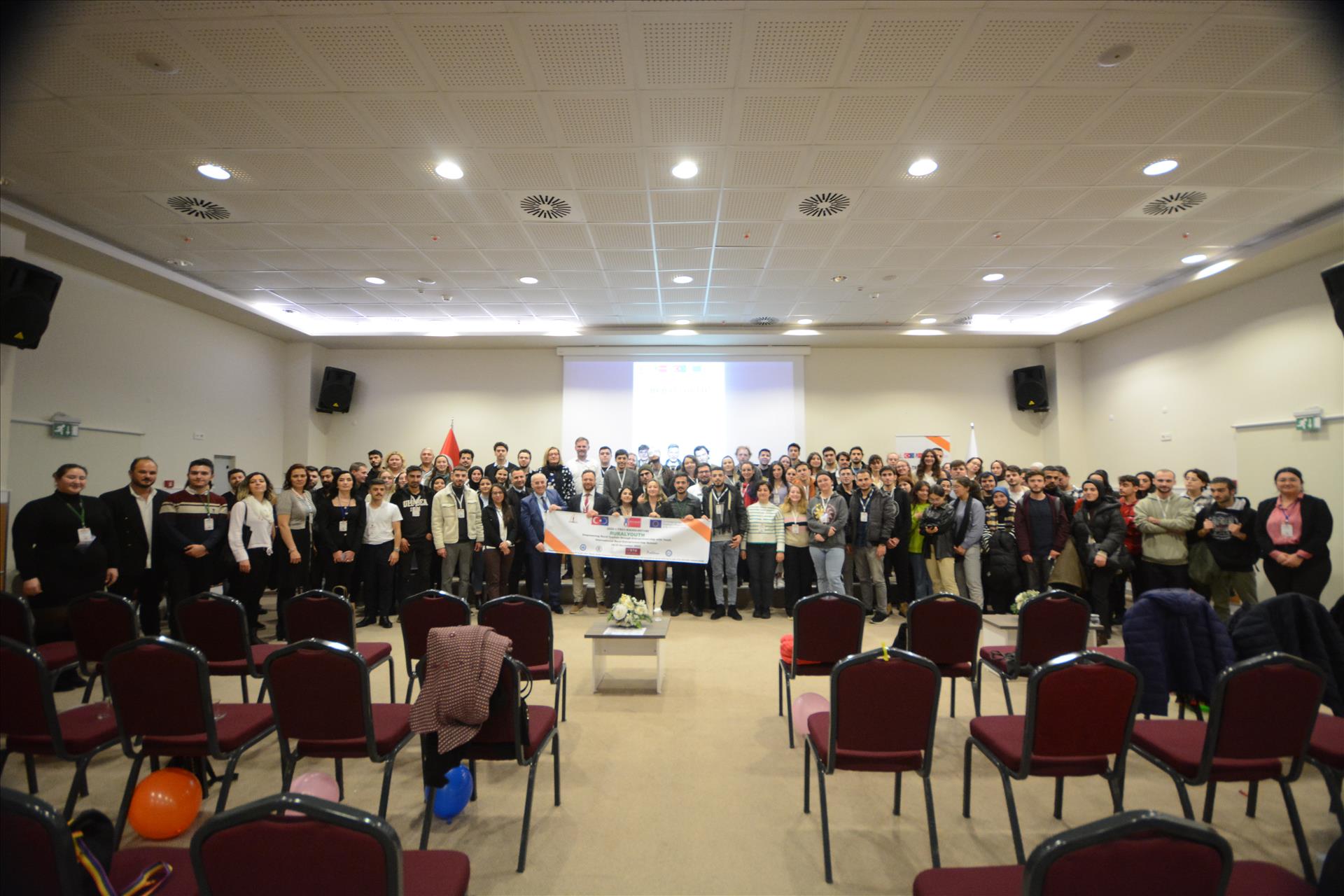 Date: 14-15.12.2022
Venue: Eskişehir Osmangazi University, Turkey – Face to face
RURALYOUTH INTERNATIONAL RURAL TOURISM SUMMIT WAS HELD!
The INTERNATIONAL RURAL TOURISM SUMMIT of the project named 'Empowering Rural Tourism through Entreprenuership with Youth' prepared within the scope of KA205 Strategic Partnership in Higher Education type coordinated by Eskişehir Osmangazi University Faculty of Tourism was held on December 14-15. A large number of participants showed interest in the two-day summit. The event was held with the participation of local and foreign guests (Poland, Lithuania, Slovakia, Czech Republic) and was attended by young people, youth workers, academics, students and representatives of relevant institutions. İnönü Mayor Kadir Bozkurt also attended the summit.
The summit, which took place at the Esogü Application Hotel, started with the opening speech of project coordinator Prof. Dr. Yaşar Sarı and continued with the presentation of Cemile Ece from the project team about the RuralYouth project, the presentation of Eren Toprak, a participant of another project of the faculty (RERURAL), and the presentation of Hypotherapy Turkey Project Coordinator İbrahim Serdar Koçar about European Union youth projects.
During the two-day summit, recreation activities with the contributions of Tepebaşı Municipality Recreation Team, Rural Entrepreneurship Panel, Rural Entrepreneurship Idea Competition with the contributions of Agnieszka JASZCZAK, (University of Warmia and Mazury in Olsztyn), Rasa PRANSKUNIENE, (Vytauto Didziojo Universitetas), Orhan Can Yılmazdoğan (Osmangazi University, Faculty of Tourism) were held. The summit was completed with the announcement of the winners of the Rural Entrepreneurship Idea Competition, the awarding of their awards, closing speeches, and a group photo shoot.
NEWS LIST ABOUT
THE INTERNATIONAL RURAL TOURISM SUMMIT
https://esoguhaber.ogu.edu.tr/2022/12/22/ruralyouth-projesi-uluslararasi-kirsal-turizm-zirvesi-gerceklestirildi/
https://www.yeniakit.com.tr/haber/ruralyouth-uluslararasi-kirsal-turizm-zirvesi-gerceklestirildi-1717297.html
https://www.eskisehir.bel.tr/icerik-detay.php?icerik_id=8291&cat_icerik=3&menu_id=26
https://www.turkiyehaberi.com/haber/13323911/eskisehir-osmangazi-universitesi-ruralyouth-projesi-uluslararasi-kirsal-turizm-zirvesi-gerceklestirildi
https://www.bursa.com/haber/ruralyouth-uluslararasi-kirsal-turizm-zirvesi-gerceklestirildi-550161.html
https://porsukgundem.com/esogude-uluslararasi-kirsal-turizm-zirvesi/
https://ab-ilan.com/uluslararasi-kirsal-girisimcilik-zirvesi-katilimcilarini-bekliyor/
https://beyazgazete.com/haber/2022/12/19/ruralyouth-uluslararasi-kirsal-turizm-zirvesi-gerceklestirildi-6682411.html
https://www.tourismjournal.com.tr/gundem/ruralyouth-uluslararasi-kirsal-turizm-zirvesi-gerceklestirildi-44398
https://www.gazeterize.com/eskisehir/ruralyouth-uluslararasi-kirsal-turizm-zirvesi-gerceklestirildi-h14860756.html
https://www.iha.com.tr/eskisehir-haberleri/ruralyouth-uluslararasi-kirsal-turizm-zirvesi-gerceklestirildi-4082594/